Soft99 Fusso Coat Speed & Barrier 400ml
Fusso Coat Speed & Barrier Hand Spray is easy in use for both men and women who want to achieve an equally flawless masterpiece, without sticky and smelly after-effects that most other conventional coatings produce.


Pay with debit & credit card through PayPal or Viva Wallet

Delivery within 1-3 business days.

Returnable product in 14 days from purchase day! Read TERM OF USE policy!
Description:
Fusso Coat Speed & Barrier is a very easy to use quick detailer that is based on the same ingredients as the products from the Fusso Coat family. This
product will protect your car paint by creating a hydrophobic, colour-tinting layer durable to up to 6 months, and remove light dirt while applying. Can also be
used as a helping hand if too much wax is applied accidentally. The spray can be used as a standalone wax, or as an enhancer for vehicles already protected
with wax coatings.

Directions for use:
1. Prepare your vehicle by washing it thoroughly with pH neutral shampoo, drying and decontaminating the car paint using a clay bar, a cleaner or
other products
2. Spray the product on a microfiber cloth and spread across the car paint
3. Avoid applying too much of the product to avoid stains. If this happens, wipe once again with a dry microfiber cloth
windshield surface, helping to repulse water under air pressure. The invisible wiper improves visibility during bad weather conditions, helping to increase the
overall safety of the passengers. In winter or in times of morning frosts, window freezing is impeded. The invisible windshield wiper effect appears at 45 kph
and is present for up to 1 year, making the Ultra Glaco a strong asset for those who endure long highway journeys!
Directions for use:
1. Prepare the glass surfaces by washing them thoroughly with pH neutral shampoo, drying and decontaminating it using a clay bar, cleaner or
other products. Glaco products produce best results if the glass is prepared using Glass Compound Z
2. Make sure that the glass surface is dry before application! The product may cause damage if applied on wet glass
3. Take the cap off the product and apply it on the glass surface with cross movements
4. Wait for the product to dry on the surface, until white residue becomes visible
5. Polish the residue with a dry and clean microfiber cloth
You might also like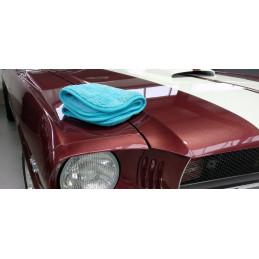 Ultra-Soft Heavyweight Detailing Towel Dimension:40X40